Mothers sacrifice many things in life to make sure that their children's needs are met. In the same manner, a mother's body sacrifices essential nutrients for the growth and health of the developing baby. Sadly, the Standard American Diet (S.A.D) lacks some nutrients that the mother's sacrifice does not always provide all the nutrients required to the unborn baby. One of the possible deficient nutrients is magnesium.
Why Magnesium During Pregnancy Is Important
Magnesium is essential for building and repairing body tissues during pregnancy. The consequences of severe magnesium deficiency during pregnancy include infant mortality, poor fetal growth, and preeclampsia. Magnesium works together with calcium to help muscles function properly. Magnesium helps the muscles to relax while calcium causes them to contract. It is reported that magnesium can help to prevent premature contraction of the uterus during pregnancy.
Other functions of magnesium include strengthening bones and teeth, stimulating enzyme function, regulating insulin and controlling blood sugar levels. It also controls irregular heartbeats and cholesterol and reduces leg cramps.
How Much do You Need?
Pregnant women between 19 and 30 years require 350 milligrams of magnesium.
Those aged 18 years and younger require 400mg while those aged 31 and above require 360mg of magnesium.
Breastfeeding women between 19 and 30 years require 310mg, those aged 18 and younger 360mg and those aged 31 and above 320mg.
Do You Need to Supplement Magnesium During Pregnancy?
You can get the required amount of magnesium by eating a healthy balanced diet. However, many women do not know the magnesium content in their food. You need to take supplement if you do not eat a balanced diet every day. Magnesium deficiency symptoms include nausea, insomnia, loss of appetite and muscle twitching. Other symptoms include poor memory, weakness, and fatigue. You can take magnesium supplements if you think your diet does not have enough magnesium. Doctors recommend magnesium supplements in prenatal vitamin packages. However, you must consult your doctor before taking the supplements.
Is It Safe to Supplement Magnesium During Pregnancy?
You cannot take more magnesium than required through diet. However, you can get excess magnesium from supplements, which is harmful to your body. Magnesium overdose is unlikely but fatal if not treated on time. Possible side effects you may experience include:
Diarrhea and dehydration: Magnesium supplements can irritate the intestine during pregnancy. This may lead to loss of appetite, abdominal cramping and diarrhea. Diarrhea will lead to dehydration if left untreated. See your doctor if you experience diarrhea for 2-3 days after taking magnesium supplements.
Stomach upset: Taking magnesium during pregnancy can cause similar symptoms as morning sickness, such as nausea and vomiting. The symptoms should heal a few hours after treatment. Seek medical attention if the symptoms persist after treatment.
Rush to the ER if you experience these symptoms of magnesium overdose:
Weakness in your muscles
Confusion and a coma
Persistent vomiting
Low blood pressure
Breathing difficulty
Irregular heart rate
Increase Your Magnesium Intake During Pregnancy with Food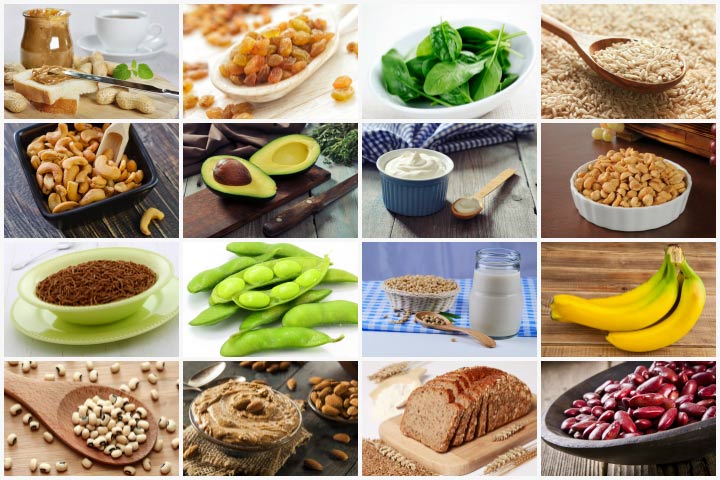 Your body requires extra care and nourishment during pregnancy. Do not rely on supplements and OTC medication to nourish your body. A healthy diet and regular visits to your doctor are enough. Most animal and plant foods and beverages are rich in magnesium. Rich sources of magnesium include: wholes grains, leafy vegetables like spinach, nuts, legumes, and seeds, foods with dietary fiber, some breakfast cereals and fortified foods. Food processing can reduce the magnesium content in food such as refining grains by removing the nutritious germ and bran. Bottled, tap and mineral waters contain varying amounts of magnesium. The amount varies from 1mg per litre to more than 120mg per litre.
The table below shows the recommended sources of magnesium during pregnancy.
| | | |
| --- | --- | --- |
| Food | Milligrams (mg) per Serving | Percentage Daily Value |
| One ounce of dry roasted almonds | 80 | 20 |
| A half cup of boiled spinach | 78 | 20 |
| One ounce of dry roasted cashews | 74 | 19 |
| A quarter cup of oil roasted peanuts | 63 | 16 |
| Two large biscuits of shredded wheat cereal | 61 | 15 |
| A cup of plain or vanilla soymilk | 61 | 15 |
| Half a cup of cooked black beans | 60 | 15 |
| Half a cup of shelled, cooked Edamame | 50 | 13 |
| 2 tablespoons of smooth peanut butter | 49 | 12 |
| Two slices of whole wheat bread | 46 | 12 |
| One cup of cubed avocado | 44 | 11 |
| 3.5 ounces of potatoes baked with skin | 43 | 11 |
| Half a cup of cooked brown rice | 42 | 11 |
| 8 ounces of plain, low fat yogurt | 42 | 11 |
| Breakfast cereals fortified with 10% of the daily value of magnesium | 40 | 10 |
| One packet of instance oatmeal | 36 | 9 |
| Half a cup of canned kidney beans | 35 | 6 |
| One medium banana | 32 | 8 |
| 3 ounces of farmed, cooked Atlantic Salmon | 26 | 7 |
| One cup of milk | 24-27 | 6-7 |
| 3 ounces of cooked Halibut | 24 | 6 |
| Half a cup of raisins | 23 | 6 |
| 3 ounces of roasted chicken breast | 22 | 6 |
| 3 ounces of pan broiled, ground and 90% lean beef | 20 | 5 |
| Half a cup of chopped and cooked broccoli | 12 | 3 |
| Half a cup of white cooked rice | 10 | 3 |
| One medium apple | 9 | 2 |
| One medium carrot | 7 | 2 |