Olive oil offers numerous health benefits, and lemon is a common ingredient used in countless home remedies. The combination of lemon juice and olive oil provides you with a simple way of detoxifying your body. The detox will help cleanse your gallbladder and liver – it also lowers cholesterol, clears stored bile, and prevents gallstones. Let's find out more about using the combo of lemon juice and olive oil.
Why Do Olive Oil and Lemon Juice Work for Detoxifying?

While you can use the combo to make your salads and meals a lot more delicious, you can also use it to detoxify your body in an easy and effective way. There are reasons why the combination works.
1. Effects of Lemon Juice
Lemon is a rich source of vitamin C which is among the most powerful antioxidants. It not only helps repair your cells, but it also works to prevent oxidative damage. It helps eliminate free radicals from your body and prevent problems like heart disease and cancer.
At the same time, lemon improves digestion, which in turn helps clean the liver too. When your digestive system is not functioning optimally, some of the undigested food may end up getting into the blood stream and then into your liver. Lemon juice keeps this from happening by boosting your digestive system.
What's more, your liver can make more enzymes in the presence of fresh lemon juice in the body. In fact, studies have found that lemon peel consumption might as well help people with fatty liver disease.
2. Effects of Olive Oil
The best thing about olive oil is that it lubricates your internal system and promotes better bowel movements. Regular consumption of olive oil makes it easier for your body to eliminate harmful toxins and leaves your liver clean and healthy.
You can actually maximize the benefits of olive oil by opting for extra virgin olive oil. It is a better choice because it contains a higher concentration of antioxidants which can eliminate free radicals and prevent damage to your cells.
How to Use Olive Oil and Lemon Juice for Detoxifying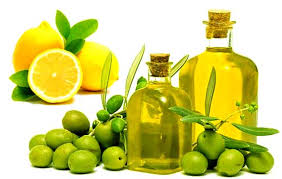 Now that you have gathered the fact that lemon juice and olive oil offer numerous health benefits, you may be wondering how you can use this combo to detoxify your body. Here is what you can try:
1. Simple Detox
For a simple detox, you simply make a mixture of lemon juice and olive oil by the following steps:
Take some lemons, wash them thoroughly, and then roll between your palms to soften them.
Cut them in half (go cross-wise) and then get its juice in a small bowl.
Now, strain the juice and pour into your blender. You should have at least 6 oz. of fresh juice.
Take a tablespoon of olive oil and add it to the blender. Then, pour 8 oz. of water into it and blend well.
Take 2 tablespoons of the mixture of olive oil and lemon juice thrice a day before each meal. Take this for 5 days only and you will find relief from symptoms like indigestion, intermittent abdominal pain, nausea, constipation, and gas.
2. True Detox
To get started, you should first get fresh organic lemon juice, prune juice, olive oil, apple juice, organic apples, and an herbal laxative. You should be sticking with apples and apple juice if you are going for the three-day detox. You can have other fruits and veggies when you are going for a seven-day detox, but avoid wheat products, dairy products, meat, and sugar. Caffeine should be avoided too.
On the final day, you should have a cup of prune juice with dinner. After an hour, take an herbal laxative. Then, mix a half-cup of lemon juice and an equal amount of olive oil and drink it before going to bed.
You should be on your right side for at least half an hour – keep your knees close to your chest during this time. Take another herbal laxative in the morning and have a cup of prune juice half an hour later. Once done, be prepared to pay an urgent visit to the bathroom during the day.
Warnings
While olive oil and lemon juice help cleanse your body in a healthy way, it is still a good idea to talk to your doctor before making any changes to your diet or using this combo. Some people may experience explosive diarrhea or nausea after trying the detox. If that is the case, talk to your doctor immediately.
It is also important to ensure that you do not stick to your detox diet for more than a few days. Take it as a short-term treatment option only. Moreover, you should not be trying any detox diet if you have diabetes, cardiovascular disease, or another chronic condition that requires medication. It is also a good idea to avoid any detox diet if you are pregnant or are currently feeding your baby.