Those who work as dental hygienists are found in dental offices, examining patients, cleaning teeth, and providing other dental care. They educate patients, including on ways to brush their teeth and how to treat certain problems. They might work for several dentists, but that also means they have the flexibility to build their own schedule. Dental hygienists requirements must be met in order for them to join this career.
Dental Hygienist Requirements
1. Education Requirements
Dental hygienists need to have an associate degree in dental hygiene; in fact, this is one of the highest-paying and fastest-growing two-year degrees in the nation. Those who want to work in research or teaching will need a bachelor's degree in dental hygiene, but these are not common. The dental hygiene requirements for admission vary depending upon the school, but most need to take courses in biology, mathematics and chemistry in high school; some programs require at least one year of college before enrolling. Education will focus heavily on things like physiology, nutrition, periodontology, anatomy and radiography, among other courses.
2. Licenses, Certifications, and Registrations Requirements
Dental hygienist requirements include licensing in the state in which they work; in order to become licensed, they must have graduated from an accredited, reputable program and pass an examination. However, the licensing rules vary from one state to another, so it is a good idea to check with state licensing boards to be certain.
3. Qualities Requirements
There are certain qualities that are required for every dental hygienist. Requirements include compassion, so they can help those who are afraid of dental procedures; attention to detail, so they can do an excellent job of cleaning teeth and educate the patient; and dexterity, as working with their hands in small quarters is typical of the job. They must also have great communication and interpersonal skills in order to help patients and convey the situation to dentists, as well as physical stamina to work with patients all day, often while on their feet.
How Much Does a Dental Hygienist Make?
Average and Median Salaries
This job is paid well for those who hold an associate degree. In 2014, the median annual wage for dental hygienists was $71,520. Those fresh out of school with no experience made about $49,000, while those who have several years of experience made just over $97,000 per year. The typical hourly wage was $34.60 per hour. The median pay for dental hygienists has increased from the $69,760 listed in May 2014.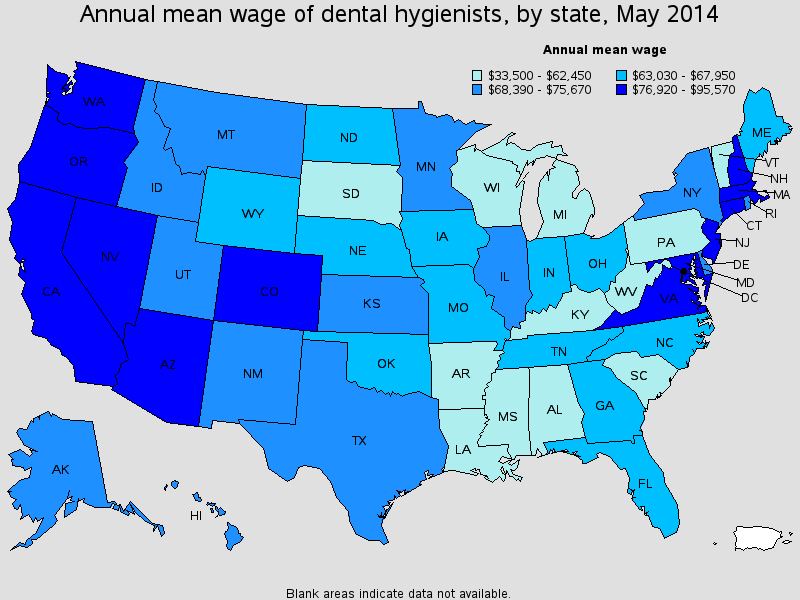 Regional Salary Differences
The Bureau of Labor Statistics pointed out the top-paying states as District of Columbia, California, Washington, Nevada and Arizona. Those who meet the dental hygienist requirements in the western United States saw the highest median wages in 2011. The lowest rates in the nation were paid in Alabama, which was an average of $44,900 per year, much lower than the national median.
Job Outlook
The job outlook for those who meet dental hygienist requirements is very good; in fact, job growth of 19 percent is expected from 2014 to 2024, according to the Bureau of Labor Statistics. Preventative dental services are becoming more common, especially through broader coverage through the Affordable Care Act. In addition, cosmetic procedures are becoming more popular, and more people are aging in the United States, leading to a higher need for dental work, including dentures and bridges. As less invasive procedures become the norm, dental hygienists will be able to do much more than they did in years past.