Wearing colored contact lenses is a way of dramatically changing your appearance with eye color you've always wanted. However, you have to select your shade carefully, as not every color suits everyone. You need to take into account your natural eye color, as well as your skin tone and hair color - violet blue contact lenses won't necessarily make you look like Liz Taylor! To help brown-eyed people choose the right green-colored lenses, here we try to figure out some helpful suggestions about green contacts on brown eyes.
Why Choose Green Contacts for Brown Eyes?
Green is one of the most striking and particular eye colors to have. Yet, green contacts can be one of the good fit choices for brown eyes or dark color eyes. When applying green contacts on brown eyes, the results can vary due to different degree of brown color of people's eyes. Typically, green contacts on brown eyes give you an eye appearance which looks like slight brown with an olive green iris.
There are different sorts of lenses available, from translucent to opaque. With translucent lenses, you will usually see a blend between the green in the contact lenses and your natural brown color, which gives an olive-green hue with a hint of brown.
Which Kind of Green Contacts to Choose for Brown Eyes?
Now you have make minds to put a pair of green contacts on your beautiful brown eyes. Which kind of green contacts to choose? Below are some of the possible choices you can try.
1. Brown Eyes and Hazel Green Contact Lenses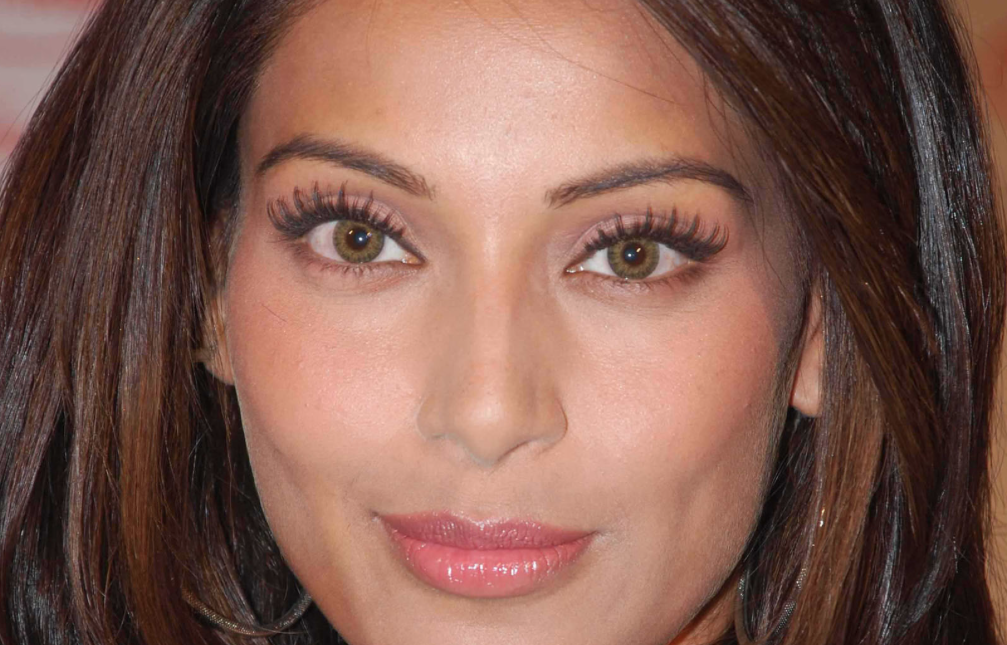 What do naturally brown eyes look like with hazel green contacts? Well, they'll certainly make you stand out, and will give your eyes a sophisticated, glamourous look with a subtle green tint. This is a great color to choose, whatever your skin tone. For an attractive mix of your own natural brown color and the hazel green, go for translucent lenses.
2. Brown Eyes and Gemstone/Natural Green Contact Lenses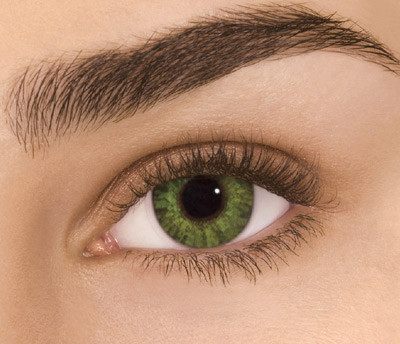 To get lenses that mimic the natural green eye color, try gemstone or natural green contacts. The effect of gemstone green contacts can be a little alike to hazel green with a light touch. There are brands you can buy that give a very natural green look to brown eyes, such as Acuvue. However, some shades are more forest green in color. Also, Freshlook lenses may look a little fake according to some reviewers.
3. Brown Eyes and Freshlook Green Contact Lenses
Freshlook Colorblends are created using state-of-the-art technology that blends three colors into one. You can buy translucent contacts, letting your natural color show through, or opaque lenses for a more dramatic look. These lenses are sold in nine different colors, and the unique blending creates a subtle green color for brown eyes.
4. Brown Eyes and Dark Green Contact Lenses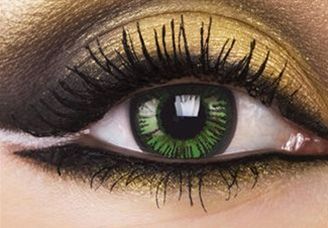 Dark green-colored lenses are an excellent choice for those who have light brown eyes. This is because they add some depth to your irises, as well as giving you the green color you want. However, you may wish to avoid dark green contacts if you have naturally dark eyes, as they can make your eyes appear dull.
5. Brown Eyes and Jade/Emerald Green Contact Lenses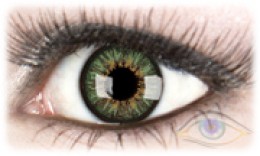 Jade and emerald green are both great options for green contacts on brown eyes. However, these colors can be quite striking, so make sure you try them on before you buy to see if they suit you. The effect with jade green contact lenses will vary, according to the color of your skin and hair, and what outfit you're wearing.
Here's a video demonstrating four types of colored contacts and how you should wear them:
How to Care for Your Color Contacts
To keep your eyes in good conditions, you'll have to properly look after your colored contacts, as carelessness could have unwelcome effects. You need to give your colored lenses the same care and attention you do for normal contact lenses.
The first and most important factor you need to take into account is where you buy your colored lenses. Always follow the proper practices for buying contacts, as described by the Federal Drug Administration, and get your lenses from a respectable seller that requires a prescription.
To guard against infection, follow the instructions provided by the contacts manufacturer about cleaning the lenses. You'll also need to remember the following:
Don't keep your contacts in for more time than your eye care professional advises.
Replace your lenses when necessary, and take them out before going to bed.
Before touching your contacts, wash your hands then thoroughly dry them with a lint-free cloth.
Don't keep your lenses in any other solution, including water and saline. It is recommended to keep the lenses only in the solution provided for the contacts.
Rub your contacts between your fingers to clean them then rinse with lens solution.
Don't use the solution more than once, and don't add new solution to an old bottle.
You risk contamination by transferring the solution to another container, so keep it in its original packaging.
Keep the solution bottle as sterile as you can. Do not let the tip touch anything.
Rinse the case for your contacts with lens solution to keep it clean. Leave it outside to air-dry.
Once every three months, replace your contacts case. Always replace any case that has broken to prevent contamination.
Take out your contacts if you're swimming, or in a hot tub or Jacuzzi.