Pharmacists are a growing field in the medical industry. There is an increasing need for this position and many people ask the question, "How much do pharmacists make?" It is actually a pretty high paying position, but does require extreme flexibility in schedule. Just like any other medical position, you may find yourself needed for nightshifts and holidays.
Pharmacists have an important role in healthcare dispensing medications in the right doses and teaching patients about using them properly. They need to understand allergies to medications, disease processes and drug interactions. The schooling requires a college degree and a medical license. Because of this, the pay scale reflects the amount of education and work you have to do. This article outlines the pay for pharmacists and more details about the pharmacist job.
How Much Do Pharmacists Make?
According to the U.S. Bureau of Labor Statistics, the average annual salary for pharmacists is $106,410. The salary range for pharmacists range low, medium, and high depending on where you work and how long you have been licensed as a pharmacist. The salary ranges are as follows:
1. Low Salary
Around 10% of pharmacists make $42.94 per hour or $89,320 annually. This lower range results from new graduates and newly licensed pharmacists just starting out. The pay may also be lower if you work in an area with a lower cost of living or small family owned pharmacies.
2. Median Salary (Average Pay)
The average national salary for around 50% of pharmacists is around $58.15 per hour or $120,950 annually. This is the most common salary for pharmacists that have experience in the field and work at major chain pharmacies and retail outlets.
3. High Salary
The high salary for pharmacists is around $72.38 per hour or $150, 550 annually. This rate is usually given to highly experienced pharmacists and/or pharmacists that work in hospital or specialty pharmacies.
Below is the mean wage by states and area in the United States according to Bureau of Labor Statistics.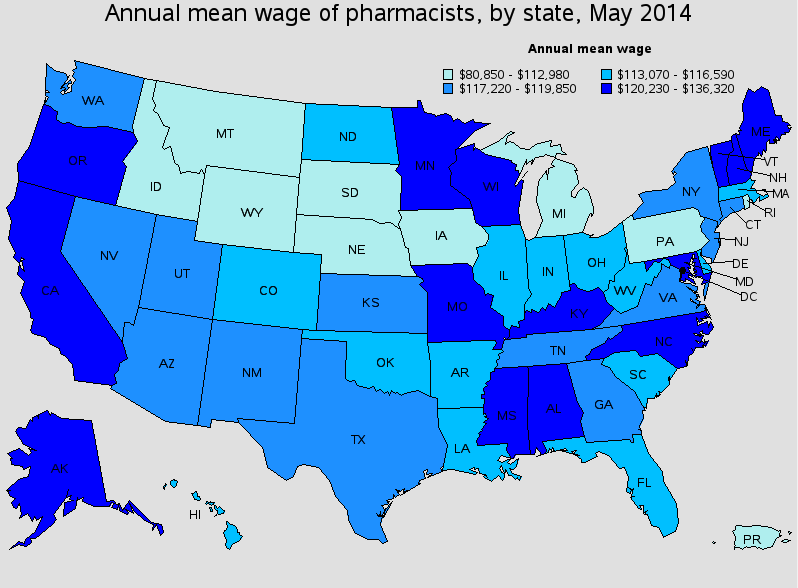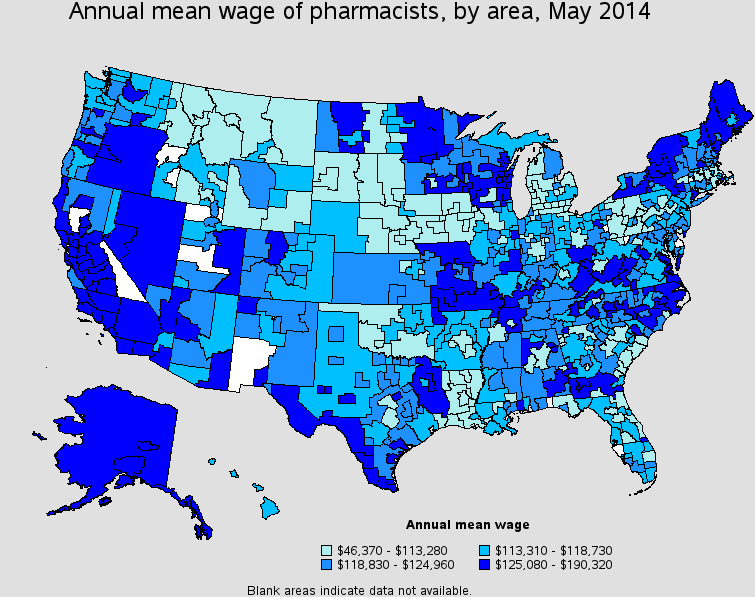 Factors that Affect the Income of Pharmacists
Deciding the salary for a pharmacist depends on a few different factors. When you ask, "How much do pharmacists make," the answer depends on where they work and how much experience they have. The following are some key factorsto salary for this job:
Small pharmacy or large chain
Research facility or hospital
Pharmacist that owns their own pharmacy
Length of experience
Level of education
The salary for pharmacist jobs is something you can always depend on. This is a constantly growing field due to the fact that people will always need medication when they are sick. Also, pharmacy training programs tend to be smaller and less pharmacists enter the field every day. This gives you a better chance of getting one of these great positions and a chance to be paid higher wages.
What Do Pharmacists Do?
The job duties for pharmacists are far more than just giving out a bottle of pills. There are large responsibilities with dispensing medications including:
Overseeing the dispensing of pills, liquid medications, and creams
Talking to people about how to take their medications and what they are for
Talking to people about over-the-counter medications
Giving advice on side-effects of medications and drug interactions
Watching for potential allergic reactions with prescribed medications
Watching prescribed medications for drug interactions with other drugs on file at the pharmacy
Calling doctors to discuss prescriptions if there is a discrepancy or issue
They also have to know specialized dosing with people who have conditions that may require more or less medication i.e. liver disease or kidney disease
Pharmacy Staff pharmacists take in prescriptions from doctors and oversee that the proper dosage and number of pills are correct. They contact doctors if something is not right (possible overdose, allergic reaction or drug interaction) for changes. Ask doctors for refills, and teach people how to use the medications properly. They also manage pharmacy assistants and oversee their work.
Hospital Based pharmacists work in a hospital pharmacy dispensing intravenous, oral, and injectable drugs that are given to hospital patients. They also consult with doctors on treatment and drug issues.
Research pharmacists work for drug companies to help develop new medications and work in drug studies. They may also work in law enforcement, the military, or other government entities.
Why Do Pharmacists Make So Much?
The question, "How much do pharmacists make," is better answered when you know why they make so much. It is surprising to know that one of the main driving factors in the salary of a pharmacist is the fact that there aren't many pharmacists. The industry is now mostly staffed by pharmacy technicians that do most of the work with only one pharmacist that oversees the dispensing of medication. The pharmacist population is quite small due to difficult testing to get into pharmacy programs in schools, unpaid internships in pharmacies, and many drop out of the programs. This makes for higher salaries for the ones who do make it to getting their license.
How Can One Become a Pharmacist?
The steps to becoming a pharmacist are pretty much the same as any other careers requiring a degree. When you are in high school, take classes geared towards a degree in health sciences including biology, chemistry, and anatomy. These will help you better prepare for a future in healthcare. Then follow these steps:
1. Earn a High School Diploma
You can either receive your high school diploma or get your GED. Make sure you do well in your science classes as they will consider your high school transcripts for admission to a pharmacist program.
2. Enroll in a Bachelor's Degree Program
Apply for a four-year college and earn your Bachelor of Science degree. You will need to take classes in anatomy, chemistry, biology, sociology, physics, and calculus. Make sure the school you attend has a pre-pharmacy program.
3. Take your Pharmacy College Admission Test (PCAT)
This will help you get into pharmacy school. After this you can apply to pharmacy school.
4. Get Your Doctor of Pharmacy (pharm.D.) Degree
This program will take four years and you need to focus your studies on pharmacology. You will also do internships at hospitals and local pharmacies for practice.
5. Take Your Test for Your License
After you graduate with your degree you will take your North American Pharmacist Licensure Examination (NAPLEX) and if you pass you will be able to get a job as a pharmacist.