Everyone loves a good peanut butter sandwich either daily or every now and then. If you really love peanut butter, you may wonder how much you can eat. Peanut butter is rich in healthy oils and protein. It goes great on just about anything, but can be high in fat. It is used in weight loss and diabetic diets because of the high protein content. This article will help you gauge how much peanut butter you can safely eat without packing on the pounds.
How Much Peanut Butter Is Too Much?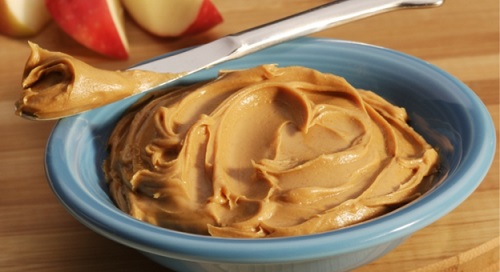 Peanut butter isn't really fattening if eaten in moderation. While you can eat peanut butter on anything, you should know how much peanut butter is too much to prevent overdoing it.
The recommended daily amount of peanut butter is according to food group. It is both a fat and a protein. You count a serving from both fats and protein. So let's take a look at how it works by food group:
| | | |
| --- | --- | --- |
| Food Group | 1 Serving | Daily Recommended Amount by Food Group |
| Fat and Oil | 1.5 Teaspoons | 6 Teaspoons daily |
| Protein | 1 Tablespoon/1 Ounce | 5.5 Ounces daily |
So, if you really like peanut butter a lot then go ahead and eat 6 teaspoons total a day. This will count as your full-day serving of both protein and fat. Or you can eat it in moderation and only use 1 teaspoon to a teaspoon and a half to count as one serving of both fat and protein.
You could technically eat one serving of peanut butter every few hours while awake and not consider it too much peanut butter, but you may get tired of it before too long. Or maybe not!
Adverse Effects of Having Too Much Peanut Butter
Keep in mind that the serving limits only apply to good quality peanut butter made without hydrogenated oil, too much sodium, and any artificial additives. If you are buying healthy plain old-fashioned or organic peanut butter, you should be fine.
When looking at how much peanut butter is too much, you need to also look at the health risks involved with over-indulgence. These include:
Excess Sodium – It is recommended that you only eat 1,500 mg of sodium per day. One tablespoon of peanut butter that contains added salt has around 147 mg of sodium. If you go over on your servings, you may get too much sodium. To avoid this, try buying peanut butter that doesn't contain any added salt and you should be okay.
High Cholesterol – Organic and old fashioned peanut butter are higher in unsaturated fats. Commercially prepared peanut butter have a larger amount of saturated fats that can lead to high cholesterol if you eat too much. One serving of peanut butter has 16 grams of fat and around 4 grams of that is saturated fat.
Slight Risk of Bacterial Infection – Peanuts are often fertilized with chicken manure. Chickens carry salmonella. During processing, there is a slight chance of peanuts becoming contaminated with Salmonella.
Mold Exposure – Peanuts can contain a type of fungus, Aspergillus. This is uncommon, but the symptoms are vomiting, abdominal pain, fluid in the lungs, and even seizures.
Inflammation and Pain – This may surprise you but peanuts aren't nuts! They are a member of the legume family and closely related to peas. Legumes have a protein known as, lectin. This is an inflammatory agent on the body and can cause pain in people with arthritis or autoimmune disorders. This protein also has no nutritional value and not counted in the regular protein count.
Pesticide Exposure – Peanuts retain a very high amount of the pesticides that are sprayed on them. When thinking about how much peanut butter is too much, when you go over on your servings you put yourself at higher risk of exposure. Pesticides can cause problems with your nervous system.
Weight Gain and Obesity – Too much peanut butter can contribute to weight gain and obesity. It is healthy as part of a balanced diet and eaten in moderation. Remember, there is a small amount of saturated fat that can be stored in the body and takes longer to burn than unsaturated fats.
Clever Ways to Enjoy Peanut Butter
With a little experimentation, you can find ways to include peanut butter as part of a healthy diet without going overboard. Peanut butter despite any rare health risks is a very healthy food. You can add it to breakfast foods, snack foods, and appetizers. It's great for lunch, dinner, or a quick pick me up at any time of day.
Here are some great ideas for including peanut butter in your diet:
1. Ants on a Log
3 celery stalks
3 teaspoons peanut butter
2 teaspoons raisins or dried cranberries
Wash and trim ends off celery stalks. Trim into 3 pieces per stalk about 2 inches each. Spread peanut butter onto middle of each piece and top with raisins. About 3 servings. Great kid snack!
2. Peanut Butter Yogurt Topped with Granola
1 c. vanilla Greek yogurt
1 tsp. peanut butter
1/3 c. granola
Pour peanut butter into a microwave safe dish. Warm for 20 seconds to soften. Let cool a few seconds and swirl into yogurt. Top with granola and enjoy!
3. Thai Grilled Chicken with Peanut Sauce
2 Lg.chicken breasts, boneless
3 tsp. peanut butter
½ c. coconut milk
2 tsp. apple cider vinegar
Salt to taste
Sugar to taste and cut vinegar
Blend all liquid ingredients together and stir in peanut butter until dissolved. Add salt and sugar to taste and cut tartness of vinegar. Fillet chicken breasts into tenderloins and pour sauce over in large dish. Refrigerate for 2 hours to marinate. Grill on open flame for 5 minutes on each side until done or bake in oven for 20 to 30 minutes until done. Serve with Thai noodles.
4. Peanut Butter Smoothie
½ c. strawberries, frozen (Do not thaw)
¼ c. blueberries, frozen
1 banana, medium
2 tsp. peanut butter
¾ c. skim milk
In blender, pour in milk first. Then add frozen strawberries and blueberries. Blend until smooth. Drop in banana and puree. Add peanut butter and finish blending until very smooth. Pour. Drink. Enjoy!