Dietary staples in Atkins diet, a diet high in fat and protein but low in carbs, include animal-based protein, fats, oils and non-starchy vegetables. But you don't have to be too rigid, you can always brighten up your plate with a low carb salad dressing at the starting phase of diet and as you go on with the program. There's nothing wrong about adding homemade and commercial salad dressings in your diet plan, provided that basic guidelines presented in phase one are consistently conformed with.
Low Carb Diet Basics
The goal of low carb diet is to reduce carbohydrate intake to less than 50 grams per day and to shift the main source of fuel to fat. This way, low carb followers can burn fats and shed weight easily. Nevertheless, they have to avoid foods like starchy vegetables, grains, desserts, sweets, fruit and sugary beverages and consider stuffing their plate with fat and protein such as poultry, meat, eggs, fish, olive oil, and full-fat cheese among others. Evidently, the Journal of the American Medical Association published an A to Z weight loss study which demonstrated that those who follow a low carb diet reduced twice of their current weight in a year.
9 Low Carb Salad Dressings to Satisfy Your Cravings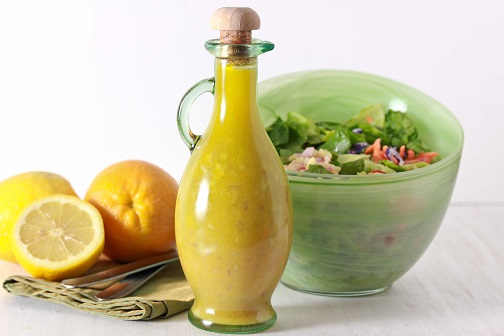 Now, if you wish to prepare your own low carb salad dressing, just gather the ingredients you need as listed below and combine them all in a blender until they are thoroughly mixed.
1. Low-Calorie Red Pepper Salad Dressing
A one-of-a-kind salad dressing that uses no oil. Yes, that's possible with this flavorful, low-fat salad dressing that combines the palatable taste of cider vinegar, apple juice, garlic, onions and roasted red peppers. Definitely, this is one healthy dressing that will jazz up each meal.
Ingredients:
¼ cup of cider vinegar
¼ cup of apple juice
2 cloves of chopped garlic
2 tablespoon of chopped onions
½ tsp of mustard powder
½ tsp of dried oregano
½ roasted red pepper
½ teaspoon of paprika
1 pinch thyme
1 pinch rosemary
2. Creamy, Low-Fat Avocado and Buttermilk Vinaigrette
Eating healthy, means eating with taste too, this healthy cream-rich dressing is one great example. It blends together avocado and buttermilk well; a combination that will surely have you craving for it without ruining your diet plan. It also offers a tangy flavor of jalapeno, scallion and garlic.
Ingredients:
¾ cup of buttermilk, low-fat
¼ cup of cilantro, fresh
1 small jalapeno, seed removed if you want it a less spicy
2 tablespoon of scallion, chopped
1 clove of garlic
1 medium haas avocado
½ teaspoon kosher salt
¼ tsp pepper, freshly grounded
1/8 teaspoon cumin
Juice of 1 lime
3. Smoky Sweet Paprika Dressing
Brighten up your salad or grilled eggplant with a unique recipe can't be found anywhere else. Made from smoke-dried red peppers, this smoked paprika gives your taste buds a distinctive earthy zest that combines flavorful ensemble of Dijon mustard, shallot, sherry vinegar and olive oil.
Ingredients:
3 tbsp. sherry vinegar
½ cup olive oil, extra-virgin
1 tsp of Dijon mustard
1 large shallot, chopped
¼ tsp salt
¾ tsp paprika (smoked)
¼ tsp pepper, freshly grounded
4. Smooth Cranberry-Orange Juice Dressing
If you think orange juice is not a typical salad dressing ingredient, try this anti-oxidant-rich cranberry dressing. Incredibly tart salad dressing, this gluten-free vinaigrette is a great choice for Thanksgiving.
Ingredients:
5 drops of stevia
1 cup of cranberries, preferably fresh
¼ cup of lemon juice, freshly extracted
¼ cup orange juice, freshly extracted
½ tsp thyme
1 tbsp. of honey or agave nectar
½ tsp salt, celtic sea
½ cup of olive oil
½ tsp of Dijon mustard
5. Strawberry Dressing with Sweet Poppy Seeds
Poppy seeds on bagels also make a good topping for your salad. If you are craving for something sweet, this healthy salad dressing would do the trick without you eating sweets or drinking sugary beverages.
Ingredients:
¼ cup of sugar
3 tbsp. of vinegar, red wine
½ tsp mustard, grounded
½ tsp salt
¾ tsp poppy seeds
¾ cup strawberries, sliced
½ cup oil, canola
6. Full Cream Homemade Ranch Dressing
Do you think you have to say goodbye to your favorite ranch dressing now that you're on a diet plan? Of course not. With this amazing low-calorie ranch dressing recipe, you can relish a creamy, delicious and probiotics packed-salad dressing that combines 1% milk, Hidden Valley ranch dressing and non-fat Greek yoghurt.
Ingredients:
½ cup 1% milk
1 pack of Hidden Valley Ranch Dressing
1 cup of plain non-fat Greek yoghurt, Dannon Oikos
7. Low-Fat, Low-Calorie Caesar Salad Dressing
Atkins followers can now enjoy a tasty Caesar salad dressing at home which is a lot healthier than any commercialized Caesar-style dressing there is. Just be sure to combine all the ingredients in a no-sugar-added mayonnaise or homemade dressing base.
Ingredients:
Low-sugar mayonnaise
Lemon juice
Extra-virgin olive oil
Anchovy paste
Seasonings such as hot sauce, mustard and garlic
Parmesan cheese
8. Low Carb Blue Cheese Vegetable Dip and Dressing
Make your vegetable salad or greens relishing with this awesome salad dressing recipe that contains less than 1 gram of total carbohydrates.
Ingredients:
Mayonnaise, low sugar or homemade
Sour cream
Heavy cream
Crumbled blue cheese
Lemon juice
Seasonings such as mustard and pepper
9. DIY Italian Salad Dressing
If you are in a mood of topping your vegetable salad with an Italian dressing, you don't have to pick a commercial bottle of Italian salad in the grocery that contains about 2 grams of carbohydrates per tablespoon. Go for a much lesser calorie with this do-it-yourself salad dressing. You can surely get a flavorful Italian dressing that can give you carbohydrates in as low as 0.8 grams per tablespoon.
Ingredients:
Red wine vinegar
Extra-virgin olive oil
Lemon juice
Traditional Italian seasoning such as basil and oregano
Garlic
Artificial sugar substitute like sucralose
Tips for Choosing Low Carb Salad Dressing
Preparing your own salad dressing is a great idea than making things convenient with a commercial bottle of salad dressing. Apart from saving a bit on your food budget, you'll also have fun in preparing your own salad and better control on the quality of the ingredients and amount of calories. Just remember the three to one (3:1) ratio in preparing your homemade dressing: 3 parts of oil for every 1 part of vinegar.
There are numerous ideas on how to jazz up your salad dressing while keeping a healthy and low-carb diet. You can go for a spicy combination of your favorite herbs and spices in low- or carbohydrate-free oil and vinegar, such as balsamic vinegar with olive oil or avocado oil and raspberry vinegar. You can also make it more flavorful by varying vinegar or oil and adding hard-boiled eggs, grated cheese, pieces of bacon, seeds, nuts, fish, poultry, ham or meat. All these can help you achieve a palatable meal that is suitable to your low-fat or carbohydrate-free diet plan.