Most women know that they need to get regular pap smears, but they may still have no idea that "what does a pap smear test for". A Pap smear test is one of the many steps of preventative care and may not always be 100% accurate. Because of this, it is crucial to have the tests done regularly, so if one test misses an abnormal change early, the next one will catch it. If you aren't sure what these tests look at, then keep reading.
What Does a Pap Smear Test for?
The test examines changes in the cells of your vagina or cervix that may indicate either cancer or other conditions that can develop into cancer. Pap smears are considered the best method of detecting precancerous conditions as well as small, hidden tumors that can lead to cervix cancer. When detected early, this type of cancer is curable.
Besides, a Pap smear test is often conducted with another test which is done for detecting human papillomavirus (HPV), a sexually transmitted infection which may cause cervical cancer in women,
When Should I Start and Stop Taking Pap Smear Test?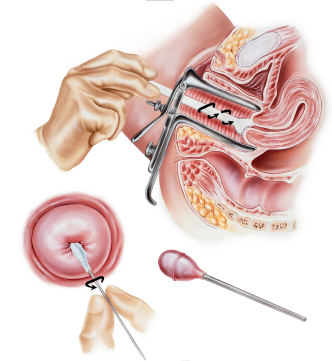 You should work with your doctor to determine the right time to start Pap smear tests. Most doctors will suggest that you should do your first pap screening at age 21 and have them every three years until you are 65 years old as long as your previous Pap smear tests are all negative. If you are between 30 and 65 years old and have normal pap tests as well as a negative HPV test, you can reduce screenings to every five years. There are a few cases in which your doctor may decide that you no longer need to have pap testing.
If you have a total hysterectomy, which is the surgical removal of your uterus as well as your cervix, then you should ask your doctor whether you still need pap smears. You may be able to stop having routine ones if the hysterectomy was due to a non-cancerous condition like uterine fibroids. If the procedure was for cancerous or precancerous cervical conditions, you may need to continue regular pap smears.
How to Prepare for a Pap Smear Test
Now that you have known "what does a pap smear test for", it is normal to wonder what you need to do to get ready for this test. It is a fairly simple process. Try to schedule your test for a time when you are not menstruating. Starting two days before your test, avoid intercourse, vaginal medications (unless directed by your doctor), douches and vaginal contraceptives as these may make it harder to interpret the test results.
How Is a Pap Smear Test Done?
You may have a pap smear done in a hospital, clinic or doctor's office by a trained healthcare professional.
First, you have to lie on your back;
Your doctor will exam your rectal area, genital area and the urethra and insert a speculum into the birth canal;
They may then clear mucus with a cotton swab to avoid interference with the sample.
The doctor will then insert a cervical brush into the cervical opening and twirl it to collect a cell sample known as the endocervical cell.
Then a second sample known as the ectocervical sample is collected; this is done by scraping the area outside the cervical opening.
The samples are then sent for evaluation by a laboratory and the test results will be available within a week or two.
What Do the Results of a Pap Smear Test Mean?
Since you know "what does a Pap smear test for", you should know how to understand your results.
If you have a normal result, this means there aren't any abnormal cells present. Remember that Pap smears aren't 100% accurate, which is why regular testing is encouraged.
There are several possible groupings of abnormal results.
AGUS (Atypical Glandular Cells of Undetermined Significance) or ASCUS (Atypical Squamous Cells of Undetermined Significance) means that you have atypical cells, but the lab doesn't know what the changes mean. They may lead to cancer or they may be from HPV.
HSIL (high-grade dysplasia) or LSIL (low-grade dysplasia) means that there are changes which might lead to cancer and HSIL is linked to a higher risk.
CIS (carcinoma in situ) means that unless treated, the abnormal changes will likely lead to cervix cancer.
ASC (atypical squamous cells) means there are abnormal changes that may be HSIL.
AGC (atypical glandular cells) means that your doctor saw cell changes that can lead to cancer in the uterus or upper portion of the cervical canal.
Whenever your pap smear is abnormal, you will need a follow-up test, but the exact procedure varies based on your medical history and the result.