"In my senior year of high school my parents and teachers were pressuring me to figure out what I wanted to do when I graduated. Since I had already made up my mind to continue my education, the only thing left for me to do was to make a choice about what pathway I wanted to take. After some careful thought, I eventually decided to become a nurse. This led me to a fundamental question, what qualifications do I need to be a nurse?"
What Qualifications Do I Need to Be a Nurse?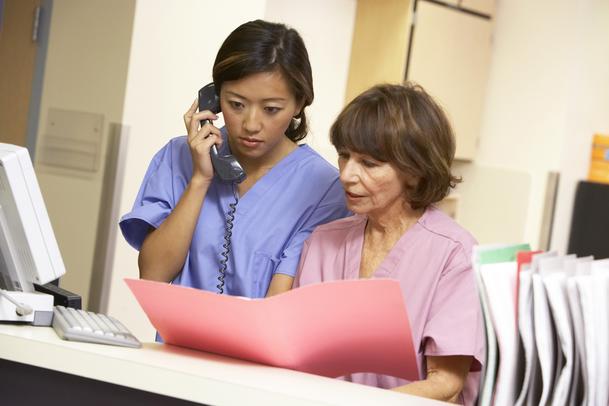 Preventive care is an essential part of a nurse's practice and at its core nursing is nurturing, protective, and generative. Nurses value self-respect, independence, and are guided by the humanitarian philosophy that respects every human being, regardless of social, racial, sexual, religious, or cultural factors. Moreover, the nurse builds a relationship with the patient, family, or others in a professional, yet interpersonal sense. Basically, there are varying types of nurses, and each type is specifically educated and trained to provide quality nursing care. The classifications and qualifications are as follows:
1. Certified Nursing Assistant/Nursing Aid
Certified nursing assistants (CNAs) assist patients with day to day routines such as bathing, dressing, and feeding. They also typically assist in patient charting and instruction, while documenting and reporting to the nursing staff any care given, along with any significant observations made regarding the patient's well-being.
Education requirements include a high school diploma or GED, and instruction that include basic nursing skills, infection control, safety and emergency procedures, and more. Certification occurs upon the completion of course study
2. Licensed Practical Nurse
A licensed practical nurse (LPN) is a person specifically trained in the techniques of nursing and has graduated from an approved school of practical nursing. These graduates are taught basic nursing knowledge, skills, and judgement, in a practical nursing education program. Once completed, the student credentials and qualifications are examined by a state board of nursing, and licensing is issued. Practical nurses may assist in nursing care under the direction of a licensed physician, or other health care professionals.
3. Registered Nurse
A registered nurse (RN) promotes the patient's health as they cope with illness. They are specifically prepared in the prevention of disease. Furthermore, they assist physicians during surgery, examinations and treatments, administer medications, and help patients during rehabilitation. There are two educational paths that will qualify you as a RN, and as a student you must complete one of these programs to become eligible for the RN licensing examination. After you have passed this exam, you are able to practice as a RN.
4. Associate Nursing Degree (AND)
Associate programs require a minimum of two years of college, and upon completion, will get an associate's degree in nursing. This pathway focuses more on the technical aspects of nursing, and includes some liberal arts and science courses.
5. Bachelor of Science in Nursing (BSN)
Baccalaureate nursing degrees are basic entry level programs of study. Students with no other nursing education are admitted, and upon completion are awarded a bachelor's degree in nursing. Bachelor of Science degree in nursing require at least four years of college credit in science and research.
What Skills Do I Need?
If you're really determined to be a nurse, besides "what qualifications do I need to be a nurse?" the skills required for being a nurse is also essential. Nursing involves a great deal of time with patients. Constant recognition of the person's dignity, and a lot of compassion are essential. No matter where nursing care is needed, in the hospital, in the home, school, or anywhere else, nurses are legally and ethically accountable for their practice. Following is a list of skills you will need.
Patience: Your success as a nurse depends on patience and how you deal with the number of things that you may face on any given day. From a moody supervisor or confused family member, to an irate patient, your patience will be tested.
Compassion: Nurses are usually the first contact people have when they enter the hospital or during a visit with their primary care physician. Therefore, it is absolutely critical that nurses are compassionate and understanding. Nurses must have the ability to reach out to people, listen to their concerns, and in some cases to soothe and comfort them.
ŸDiscipline: Good work ethics are required as it relates to punctuality, work habits, and managing your time. Furthermore, you will be expected to be flexible, and have the ability to work well under pressure.
Organization: Organizing and setting priorities are the keys to success. Since you will be primarily responsible for routine activities of patients who cannot care for themselves at times, your organizational skills will come in handy. Otherwise, chaos could become a problem.
Detail orientated: Paying attention to detail is absolutely critical. Especially when documenting the work you have performed on your patient, and any charted information that is needed for the primary care physician. Medications have to be administered at certain times and dosages have to be closely monitored.
How Do I Get Into Nursing?
Now you get the answer to "what qualifications do I need to be a nurse?" the next step is to prepare yourself for being a nurse. In order to get into nursing, you first have to decide on what pathway you want to take. Since nursing is a science-based program, most of your course-work will center on chemistry, anatomy, biology, and nutrition to name a few. Here are some quick tips
Graduate from high school with a GPA > 2.5 or a GED equivalent diploma. This is the minimum requirement for nursing school; and the higher your GPA, the better your chances will be when you enter higher education.
Research the different pathways and make a decision on which pathway best fits your needs and goals. By exploring your options ahead of time you can avoid some of the pitfalls of having to change course.
Fill out the application and submit it early. Pay close attention to any deadlines, and make sure you are available to program personnel who may want to contact you for additional information.
Attend nursing information sessions. Prospective students usually are offered a nursing session to help familiarize them with the enrollment process.
A basic requirement for anyone interested in attending nursing school is the test of essential academic skillsor a TEAS test.
Be prepared for your entrance interview with the nursing dean or other faculty member from the program.
For what nurses do, please go here.