It is natural to feel concerned about losing hair. People do not mind trying everything they can to prevent hair loss, baldness, and split ends. Very few people are actually happy with the quality of their hair. Most people experience diverse hair problems due to many external or internal factors. If you are also worried about the health of your hair, you may consider trying mustard oil for hair. Not only can it prevent hair fall, it can also help you deal with baldness in an effective way.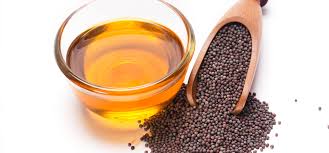 Benefits of Mustard Oil and How to Apply
The use of mustard oil has become quite popular in recent times. More and more people are becoming aware of its amazing benefits and including it in their haircare routine. Here are some amazing benefits of mustard oil.
1. It Helps with Hair Growth
A hot oil massage has always been considered a great way to stimulate roots and promote hair growth. You can get amazing results if you heat mustard oil a little and massage it into your scalp. Leave it there for 15 minutes and then wash your hair with lukewarm water. Regular massage will significantly improve the quality of your hair and help with hair growth at the same time.
2. It Removes Dandruff
Using mustard oil for hair can help you get rid of dandruff. It works because it has antibacterial and antifungal properties. Make a mixture by adding some limejuice to mustard oil and apply it directly to your hair. Leave it there for a while and wash your hair to have healthy follicles and a clean scalp.
3. It Promotes Scalp Health
Regular application of mustard oil will significantly improve your scalp health. Thanks to its antibacterial and antifungal properties, it can be a great treatment for dry scalp. It also reinvigorates your hair follicles and promotes hair growth. Simply mix mustard oil with coconut or olive oil and massage it into your scalp for a few minutes. Cover your hair with a towel and then wash your hair after 30 minutes with lukewarm water. Do it once a month to keep your scalp healthy.
4. It Prevents Premature Graying
Gray hair will always cause serious problems, especially when you are dealing with premature graying. Mustard oil can resolve the issue because it contains antioxidants and many other essential nutrients. Regular application will have a darkening effect on your hair. Simply take a few drops of mustard oil and massage your scalp gently before going to bed. Be sure to wash your hair with hibiscus paste and lukewarm water before you go to sleep.
5. It Helps Treat Baldness
Mustard oil for hair growth is not a new remedy. People in many countries have been using it for ages to treat hair related problems. It is extremely beneficial for people who are struggling with bald patches. Take half a cup of mustard oil and then add two teaspoons of henna to it. Heat it for 10 minutes and then strain it. Apply it directly to your affected areas to help treat baldness.
You can also mix mustard oil and fenugreek seeds to make a perfect remedy for hair thinning, hair loss, and baldness. Simply soak a cup of fenugreek seed in the mustard oil overnight and then warm it in the morning for a while. Remove it from the heat when those seeds turn gray. Strain the mixture and apply directly to your hair to treat hair loss and baldness.
6. It Conditions Your Hair
Because of its thick consistency, mustard oil can really help condition your rough, dry hair. To get great results, apply some mustard oil to your hair and massage for a few minutes. Then, steam your hair to help the oil penetrate deep into your scalp. Wash your hair with your regular shampoo after a couple of hours. Use lukewarm water first and then give your hair a cold-water rinse to make your hair look smooth and shiny.
Tips for Using Mustard Oil for Hair
You may have gathered the idea why it makes great sense to include mustard oil in your haircare routine. However, you may be wondering how you can use it properly. Here are some tips to consider:
Mustard oil can help keep your hair hydrated. It moisturizes your air and gives your hair a natural shine and bounce. Just apply it daily to see effects.
Consider warming the oil a little before you apply it to your hair. This will help make the oil much more effective.
Ensure that you use your fingertips to massage your scalp; never use your nails while massaging the scalp or it can damage your hair further.
Consider the condition of your hair to determine how much mustard oil you need you use on a regular basis. You need to use more oil if you have dry and damaged hair. It is important to leave it there for at least a couple of hours before you wash your hair. You may not have to use that much of oil if you are only worried about adding some shine and bounce to your otherwise healthy hair.