Nowadays, dinner has taken the place of supper, and has become the main meal of the day. It's when the family is home from work and school, tired from the day's activities, but hungry for a good meal. What should I eat for dinner is a frequent and valid question. With some careful planning you can set out a good dinner without wearing yourself out.
Dinner is important because you'll be going to bed before long and the food will sustain your body throughout the night. A proper evening meal can ensure you sleep well and awake refreshed and rested. A poor dinner can lead to snacking, which is detrimental to a good night's sleep. It also causes fluctuation of blood sugar levels, making your body work all night to control when it should be resting.
What Is a Healthy Dinner?
A healthy dinner has the same basics as a healthy lunch, and should include three food groups or more. It should be limited to around 500–550 calories, and contain sources of protein, fiber, and a healthy fat. Simple sugars and saturated fats should be limited.
Proportions
Use of the Choose My Plate templet is a simple way to plan a nutritious meal. Divide your plate in half and fill one half with vegetables or fruits. Fill the other half with equal parts of proteins and grains. A glass of milk or other dairy, such as yogurt or cottage cheese, will complete your meal.
Include These Foods
Before asking "what should I eat for dinner", you should get to know the foods within each food group first, and then choose the ones that are the most nutritious. Whole grains are more nutrient-dense than refined grains. Choose vegetarian proteins over animal products for more nutrients and little fat. Different colored vegetables contain different vitamins and minerals, so chooses a variety of them throughout the week.
Limit These Foods
When planning your meals, restrict foods containing cholesterol, sodium, trans fats, or saturated fats. Whole foods contain the nutrients your body needs that processed foods lack. Refined grains like white bread and white riceshould be limited to less than half of your grain servings per day. Unhealthy fats and refined sugars should also be strictly limited.
Portion Size
You will defeat your purpose of learning to eat healthier if you overconsume. Eating too much of even the healthiest of foods is still harmful and will lead to obesity and other health problems. Learn what a good serving is and follow healthy guidelines for your height, weight, and gender.
Recipe Suggestions
When you're wondering "what should I eat for dinner," here are some recipes to inspire the chef within.
Garbanzo Polenta with Olives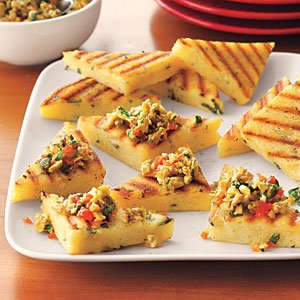 Ingredients:
1 ¾ c. chickpea flour
2 c. plain soymilk
1 c. chicken stock, vegetable stock or broth
1 t. extra-virgin olive oil
3 cloves garlic, chopped
1 t. fresh thyme, oregano, and/or basil, or 1 t. dried
1 t. dry mustard
½ t. salt
¼ t. black pepper, freshly ground
3 egg whites
Topping:
1 t. extra-virgin olive oil
½ yellow onion, minced
¼ c. nicoise olives, coarsely chopped
¼ c. dry-packed sun-dried tomatoes, rehydrated, drained and chopped
2 t. grated Parmesan cheese
2 t. fresh flat-leaf (Italian) parsley, finely chopped
Directions:
Place in a blender the flour, soymilk, stock, olive oil, garlic, herbs, mustard, salt, and pepper. Whiz until smooth. Pour into a large bowl and let it stand for an hour. Preheat the oven to 425º F (218 °C). Lightly spray a 9x13inch baking pan. Beat egg whites until stiff peaks form and fold into the batter. Pour the batter into the sprayed pan. Bake until puffed and the edges are lightly browned for about 15 minutes. Let cool for 15 minutes.
Preheat the broiler; position the rack 4 inches from the heating element.While the polenta is cooling, make topping. Heat the olive oil in a small skillet, add the onion and sauté until soft and lightly golden for about 6 minutes. Add the tomatoes and olives and cook for 1 minute; remove from heat.
Spoon the onion mixture over the baked polenta and sprinkle with the cheese. Broil until the top is lightly browned. Sprinkle with the parsley. Let cool for 10 minutes on a wire rack. To serve, cut into eight squares, then cut each square diagonally into 16 triangles.
Nutritional facts:
Each serving (two triangles) contains 16 g carbohydrate, 3 g dietary fiber, 298 mg sodium, 1 g saturated fat, 7 g total fat, 1 mg cholesterol, 9 g protein, 4 g monounsaturated fat, and 163 calories.
Baked Chicken with Wild Rice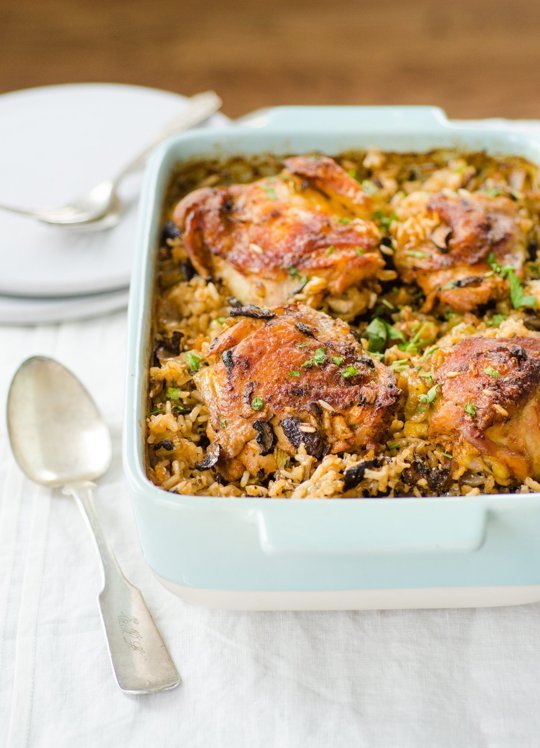 This delicious chicken recipe can keep you from asking "what should I eat for dinner?"
Ingredients:
1 lb. boneless, skinless chicken breast halves
1 ½ c. celery, chopped
1 ½ c. whole pearl onions
1 t. fresh tarragon
2 c. unsalted chicken broth
1 ½ c. dry white wine
¾ c. uncooked long grain brown rice
3.4 c. uncooked wild rice
Directions:
Preheat oven to 300º F (149°C). Cut chicken into ½to 1inch pieces. Combine chicken, celery, onions, and tarragon, and one cup chicken broth in a non-stick skillet. Cook over medium heat until tender for about 10 minutes. Leave to cool.
In a baking dish, combine wine, remaining chicken broth, and rice. Let soak for 30 minutes. Place the chicken and vegetables in the baking dish. Cover and bake for an hour. Check periodically and add more broth if the rice is too dry.
Nutritional facts:
Each 2-cup serving contains 37 g carbohydrate, 2 g dietary fiber, 180 mg sodium, 1 g saturated fat, 3 g total fat, 73 mg cholesterol, 21 g protein, 1 g monounsaturated fat, and 330 calories.
Rice Noodles with Spring Vegetables
Ingredients:
1-8 oz. pkg. rice noodles
1 t. peanut oil
1 t. sesame oil
1 t. fresh ginger, grated
2 garlic cloves, finely minced
2 t. low-sodium soy sauce
1 c. small broccoli florets
1 c. fresh bean sprouts
2 scallions, chopped
8 cherry tomatoes, halved
1 c. fresh spinach, chopped
Crushed red chili flakes (optional)
Directions:
Bring water to boil in a large pot, then add noodles and cook until tender for 5-6 minutes, or according to the package. Drain and rinse in cold water.
In a large skillet, heat the oils over medium heat. Add the garlic and ginger and stir-fry until fragrant. Add soy sauce and broccoli, cooking over medium heat for about 3minutes. Add remaining vegetables and cooked noodles, stir well until warmed through. Serve with the chili flakes sprinkled over the top.
Nutritional facts:
Each 1 ½ c. serving contains: 37 gcarbohydrate, 1 gdietary fiber, 215 mg sodium, 1 gsaturated fat, 5 g total fat, 3 g protein, 2 g monounsaturated fat, and 205 calories.
More healthy dinner recipes can be found HERE