Radiologists are specialists of making a diagnosis by using imaging studies. These studies may include angiograms, X-rays, mammograms, magnetic resonance imaging (MRI), nuclear medicine scans, computed tomography (CT) scans, and sonography. Radiologists need to have the skills required to identify abnormalities, such as a broken bone, a tumor or other injuries. They paid well for their work.
How Much Does a Radiologist Make?
In survey conducted in 2012, it was found that the medial annual pay for radiologists was $315,000. Salary.com confirms that a median salary for radiologists is somewhere close to $379,323. There may be some variations in salaries depending on your true responsibilities and title. If you work as Physician–Radiology for example, your salary will depend on company size, industry, experience, location and level of education.
In a report compiled in 2013, it was found that radiologists in southwest region get the highest salaries with a median salary of $407,000. The following image shows compensation for radiologist depending on their geographical areas.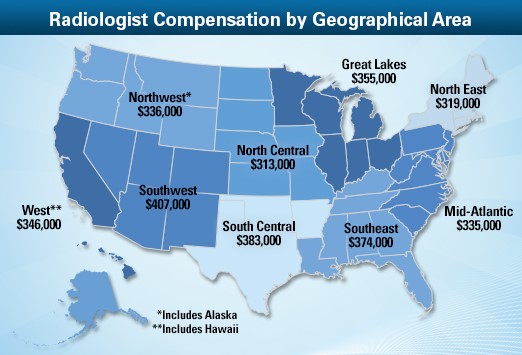 However, HR reported data as of November 2015 shows that the median salary for Physician–Radiologist is $373,574. The following image also confirms it and highlights that the medial salary may range between $324,278 and $433,171.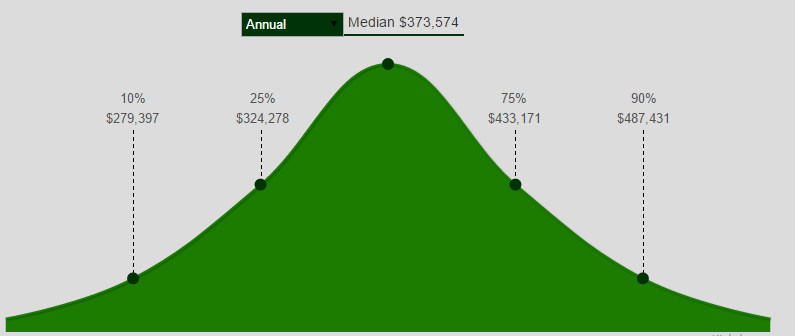 What Does a Radiologist Do?
How much does a radiologist make? It depends on a number of factors actually. As mentioned, a radiologist is trained to obtain and interpret medical images. About 1.2% of physicians who obtain medical histories, examine patients, diagnose illnesses and administer treatment for people suffering from a disease or injury are specialist in radiology. They check medical images in relation to their findings through examination. They also get in touch with referring physicians to discuss findings. Radiologists also help treat diseases using radiation (nuclear medicine or radiation oncology) or image-guided surgery.
How to Become a Radiologist
Now that you have answer to your question how much does a radiologist make, you may want to know how you can become a radiologist. Here are some details you need to know:
1. Undergraduate Education
The most important step is to obtain a bachelor's degree from a 4-year university. To move to the next step, you will need a high GPA, above average MCAT scores, leadership and volunteering experiences, multiple letters of recommendation, and exposure to basic clinical research.
2. Medical School
You need to be accepted to a D.O or M.D. medical school and learn all of the physiology, anatomy, pathology, pathophysiology, and pharmacology that all graduating physicians should know. You also need to study to perform highly on the United States Medical Licensing Examinations (USMLE). You will apply for your post-graduate training programs in various specialties by the time you are in your final year of medical school.
3. Clinical Internship
After you complete your graduation, you will get a M.D. degree. You will then be able to apply for a limited medical license. Once you get it, you can work as a physician. However, you will have to spend your first year as a resident. Your intern year will involve practicing surgery, general medicine, or a combination of both. You will also be taking care of patients in inpatient and outpatient settings as well as in the emergency department.
4. Radiology Residency
After this, you can proceed with any radiology specialty and start a 4-year training program in that field. You will be spending many hours in the hospital during these four years of radiology residency. You will be interpreting thousands of imaging studies and helping patients understand their test results. Your job will also involve communicating findings with other clinicians. You will also be performing several image-guided procedures during your time as a radiology resident. After your training, you will have to pass several sets of board-certifying examinations.
5. Radiology Fellowship
A large majority of graduating residents gain admission in a 1 or 2 year fellowship program. They take this program in a subspecialty of radiology, which may include musculoskeletal radiology, neuroradiology, and interventional radiology. During the program, you will learn the most advanced procedural and imaging techniques related to your subspecialty.
6. Transition to an Attending Radiologist
After the completion of fellowship, you will be in a position to practice your specialty.
7. Licensing and/or Certification
However, you need to take a state license to start practicing in your specialty. Some employers require radiologists to sit in board examinations and hold board certification. This usually requires completing a two-part exam that covers anatomy, medicine, imaging modalities, and physics.
8. Necessary Skills and Qualities
It is important to note that competition for radiology residency is quite stiff, so it is important to be a top academic performer with outstanding USMLE scores to be considered for the position. You also need to have excellent medical school grades, great letters of recommendation, and a decent amount of experience. Your involvement in any radiology research project will be an added benefit.