Being an oncology nurse sounds as though it may be one of the most stressful and depressing jobs out there. However, those who choose this career say this isn't the case:
"The pros of the job greatly outweigh the downsides. Most people would think that working with children suffering from cancer and other blood ailments is upsetting, but that's not the case."
"Children are surprisingly tough, as they don't mope around in self-pity or lie around feeling ill. They want to get up and play, so you have so much fun with them, smiling, laughing, and having a good time as part of your job. In fact, most children respond really well to treatment."
What Does a Pediatric Oncology Nurse Do?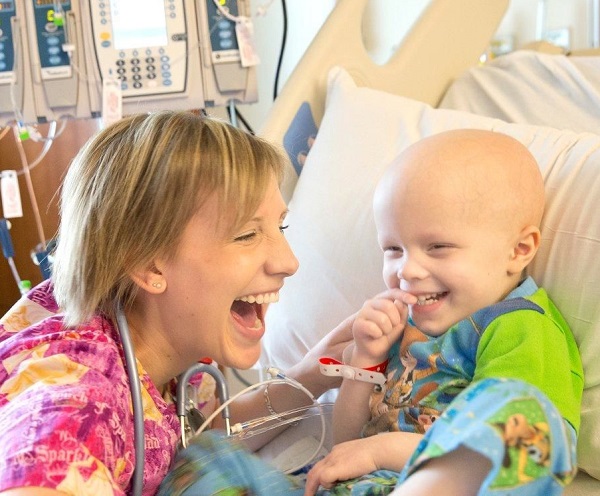 The main duties include administering chemotherapy with a doctor's supervision, assessing and monitoring patients, designing care plans, explaining treatment options to the patient and his/her family, and evaluating the patient's and family's psychological and physical needs. The nurse will work with the patient's wider medical team, which usually includes the primary physician and the oncologist, as well as a social worker, a psychologist, dieticians, and other professionals.
Pediatric oncology nurses support and provide care to children who are currently or have previously received cancer therapy. They work with kids of all ages, from infants to adolescents, and in a variety of settings – hospitals, hospices, outpatient clinics, or at patients' homes. They can undertake further training in oncology and pediatric oncology, improving their knowledge and skills, and this may enable them to specialize.
How to Become a Pediatric Oncology Nurse
Education
To become a oncology nurse, you need to already be a registered nurse. For this, you have to study for an Associate Degree of Nursing (AND), Associate Degree of Registered Nursing (ADRN), or a Bachelor of Science of Nursing (BSN).
In addition, you have to have a state-issued license. To enroll on an ADRN course, you may require a certified nursing assistant license or practical nursing license.
You also need to have studied prerequisite courses, such as anatomy, physiology, nutrition, psychology, microbiology, chemistry, and statistics. Cardiopulmonary resuscitation training and up-to-date vaccination status may also be required.
Most traditional BSN courses require just a high school diploma, although you may need a certain number of high school credits in English, math, social sciences, and a foreign language. On the BSN course, you'll study child and adolescent health, reproductive health, biochemistry, pharmacology, psychology, statistics and leadership.
Licensure
The licensing requirements for a pediatric oncology nurse vary according to state. You apply for the license by contacting your state's board of nursing. All 50 U.S. states, as well as Guam, American-Samoa, the District of Colombia, the Northern Mariana Islands, and the Virgin Islands ask that nurses complete the National Council Licensure Examination for Registered Nurses (NCLEX-RN) to get the license to be a registered nurse (www.ncsbn.org). This exam was created by the National Council of State Boards of Nursing.
Certification
Certification as a pediatric oncology nurse is voluntary. Certification for pediatric oncology hematology nurses (CPHON) is offered by The Oncology Nursing Certification Corporation (ONCC), although you must be a licensed registered nurse. You also need at least one year's experience and 10 hours' approved continuing nursing education in oncology over the past three years. In addition, 1,000 hours' nursing practice in pediatric oncology or hematology over the last 30 months is also required.
How Much Does a Pediatric Oncology Nurse Make?
Pediatric oncology nursing is a somewhat specialized and small niche for registered nurses, so it is hard to determine average wages. For registered nurses in general, the median average salary in May 2009 was $63,750, with the middle 50% earning $52,520-77,970, according to figures from the Bureau of Labor Statistics. Oncology nurses earned an average yearly wage of $63,882, with the middle 50% earning $57,099-72,260 in 2010, according to salary.com. The same data show that pediatric nurses earn a median average annual wage of $60,541, with the middle 50% on $55,066-67,106.
Nurses who had bachelor or master degrees in nursing generally earned more than those who only had an associate degree in nursing.