Triamcinolone acetonide (Kenalog, Aristocort,), isa topical corticosteroid that interacts with steroid cytoplasmic receptors to induce anti-inflammatory effects. Triamcinolone acetonide comes in cream, ointment, liquid, lotion, and aerosol of various strengths. It is sometimes used as a paste for use in the mouth, but more likely as a cream for use on the skin, and is usually applied two to four times a day.
What's Triamcinolone Acetonide Cream Used For?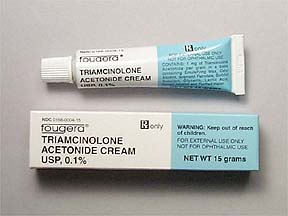 The cream reduces the actions of chemicals in the body that cause redness, itching, dryness, scaling, crusting, inflammation, and irritation of assorted skin conditions. It is a more potent derivative of Triamcinolone, and is about eight times as strong as synthetic cortisone. Triamcinolone acetonide cream is a topical emollient and corticosteroid combination. The emollient helps protect and prevent dry skin. While the corticosteroid works by reducing skin inflammation, the emollient moisturizes the skin.
Precautions to Take Before Applying
Inform your physician or pharmacist your medical history especially cataracts, glaucoma, diabetes, immune system problems, or poor blood circulation.
Do not use if there is a sore or infection present in the area to be treated.
Inform your physician and pharmacist if you are allergic to Triamcinolone or any other medications.
Inform your physician and pharmacist what non-prescription and prescription medications you are taking, such as topical medications, vitamins and especially cancer chemotherapy agents.
Inform your physician if you are pregnant, or plan to become pregnant. If you become pregnant while using Triamcinolone acetonide cream, call your physician at once.
Inform your physician if you are breast-feeding. Little is known whether this drug passes into breast milk when applied to the skin. However, other medications in this class pass into breast milk when used orally.
Do not use if there is an injury or sore present in the area to be treated.
Using the cream over a long period of time, or for large areas of skin, can make it more difficult for your body to respond to physical stress.
Though it is unlikely, this medication may slow down a child's growth if used for a long time.
How to Use Triamcinolone Acetonide Cream Safely
Use Triamcinolone cream only on the skin and do not use it on groin, underarms, or the face, unless directed to do so by your physician. Use Triamcinolone cream only as directed and check the label on the medicine for exact dosing instructions. When applying Triamcinolone cream:
Wash and dry your hands.
Gently rub a small amount of medicine to the affected area until it is distributed evenly.
Wash your hands when finished, unless your hands are part of the area treated.
Unless directed otherwise by your physician, do not bandage or wrap the affected area.
If a Triamcinolone cream dosage is missed, apply it as soon as possible. However, if it is close to your next scheduled dose, skip the dose and go back to your regular dosing schedule and do not apply two doses at once.
If you have any other questions about Triamcinolone cream, you should seek the advice of your physician or pharmacist.
Important Information to Keep In Mind
Remember to use this medication exactly as it has been prescribed by your physician and follow the directions on the label. And remember:
Do not bandage or cover treated skin areas unless advised by your physician, and if you are treating for dermatitis on a baby, do not use tight-fitting diaper, or a diaper covering plastic pants. This will result in the skin that is treated with Triamcinolone cream to possibly increase the amount of the medication absorbed into the skin, which may lead to serious side effects.
Do not use Triamcinolone cream in larger amounts, or longer than recommended.
Avoid using Triamcinolone acetonide cream on body areas where you have thin skin or skin folds, on your face, or near your eyes.
Since children are more sensitive to medications, seek the advice of your paediatrician.
Triamcinolone cream will not treat fungal, bacterial or viral skin infections and contact your physician if your condition does not improve or if it gets worse after several days.
Are There Any Side Effects to Look Out For?
Seek immediate emergency medical help if you have any of these signs of an allergic reaction:
Breathing difficulties, or hives
Any swelling of your lips, face, throat, or tongue
Stop using this medication and call your physician immediately if you have any of these signs that you may be absorbing Triamcinolone cream through your skin:
If you have blurry vision, or see halos around lights
If you become moody or fatigued
Irregular heartbeats
Problems sleeping or insomnia
Sudden weight gain or puffiness around the face
Lesser serious side effects could include:
Itching, peeling, burning skin, or skin redness
Blistering skin
Stretched or thinning skin
However, this is not a complete list, and you will have to consult your physician about any other side effects that you are noticing.